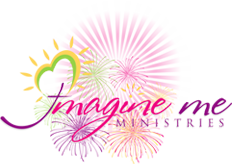 Welcome to the
Imagine Me Ministries

Website!
You've heard the old saying, "hindsight is 2020" (I couldn't resist). The older I get the more it rings true. There is something to be said about being able to see clearly, some of us have to wear glasses and some of us have really good vision, which ever you have, there are things that can be done to help you see clearly, so that you can see the sunshine that provides much needed Vitamin D, so that you can see a smile or hope on a young person's face, so that you can see and witness positive transformation, so that you know where to walk, so that you can see potential danger, the list goes on and on.
It all makes sense, WHAT IS A MENTOR? A guide. And what does a guide do? Model, direct, and point you in the right direction because they can see things clearly that may be blurry to a mentee. It all involves helping someone see clearly the road, the choices, the consequences, the options that lie ahead.
Jeremiah 29:11 rings even more true (it's at the top of the page). God has plans to prosper us and not to harm us, plans to give us a hope and future. Clearly, God had to send this message of assurance because the Israelites needed help seeing things clearly, with let's say 2020 vision😊. Their future looked blurry, but Jeremiah gave specific instructions to guide them so that the future and the hope that could be theirs was communicated and modeled before them. As my husband once said, "It's one thing to see, it's another thing to see clearly."
When I think of our young people in Baltimore City and young people across the world, they don't have the luxury of long-term blurry vision. Our society makes them grow up fast and endure trials and experiences that my generation either never saw or had to endure and if we did, it was much later in life. When a mentor helps a young person see clearly, it doesn't matter what anybody thinks, what ludicrous message screams across the media about our Great City of Baltimore because hopefully, they can see things clearly…can you see what I'm saying? Good!
So, what does all of this mean for US? It is our responsibility, duty, charge, obligation or whatever you want to call it to make an intentional and committed effort to help our young people see clearly.
My prayer is that if you are reading this message, if you have not already, you will commit to helping a middle school, high school or young adult aged female in Baltimore City and beyond Embrace a 'Life of Promise' by committing to helping them see clearly whether it is through one-on-one or group mentoring, volunteering in our youth development programs, donating your time, talents or treasure in support of Imagine Me Ministries.
Please read through our website and connect with us in 2020 to help our girls to see clearly the path that is set before them. Thank you for your time and attention!
Happy New Year!

Imagine Me, a 501 c(3) nonprofit youth development and mentoring organization founded in 2007, has served over 500 girls and matched over 85 girls with a one-on-one mentor, with many girls continuing in their match relationship and/or staying connected to the organization for over 13 years as they progress into adulthood.
Our purpose is to equip girls with the right tools that will be instrumental to her success as she grows and develops from middle school to high school to college and beyond into adulthood.
Our overarching organizational goals are to:
1. Provide girls with the tools to make productive life choices in environments that provide long term, relentless support and accountability to ensure that right decisions become the norm and not an anomaly.
2. To increase high school choice acceptance, high school graduation, college acceptance and completion and career preparation readiness in the underserved and under-resourced communities of the inner City of Baltimore and beyond, reaching into the Juvenile Detention Center at the Thomas J. Waxter Center for Girls in Laurel, Maryland, to serve girls detained from all over the State of Maryland, in an effort to reduce recidivism.
Imagine Me offers a customized curriculum that focuses on delivering weekly in-school, after-school and out-of-school time program structures to promote healthy social and emotional development, academic achievement, cultural enrichment, college and career exploration, and healthy life skills for our middle and high school girls. As a result, Imagine Me girls develop leadership skills, positive character traits, personal accountability, healthy communication skills, listening skills as well as a host of other life skills that are foundational to the pursuit and achievement of their goals throughout life.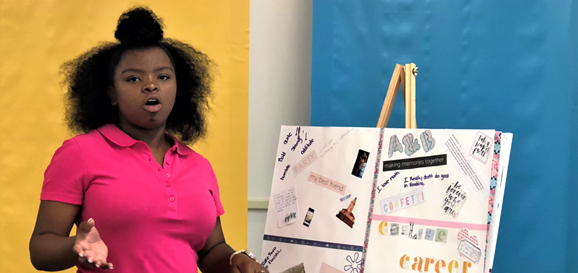 Our Mission
To Inspire Girls to Embrace a 'Life of Promise' and mature into dynamic young women through long term mentoring relationships with caring adult women.
Serving middle and high school girls in grades 6th to 12th in underserved and under-resourced communities of Baltimore City, Imagine Me concentrates on the "total" girl with program elements focusing on the social, academic, spiritual, physical, emotional, relational, behavioral aspects of being a female in today's world via partnerships with schools, corporations, churches, community-based organizations, city and state government agencies and other non-profit and for-profit organizations.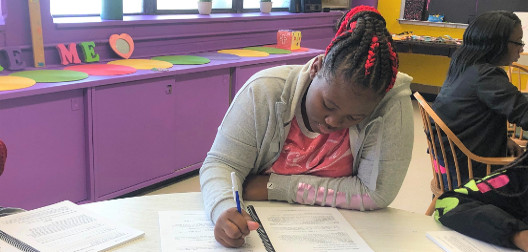 Our Vision
Our Vision is that every girl would see herself as God sees her and that the organization will support the development of promising futures despite past disappointments, challenges and hurts, with a passion to foster camaraderie between girls and their peers, seeing them in healthy relationships equipped with the tools to make wise decisions throughout their entire lives.